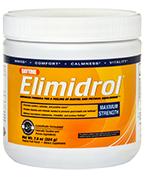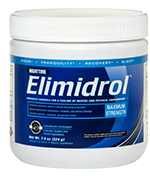 Our scientifically formulated detox support supplement will provide you with the strength and comfort to successfully overcome opiate withdrawal by alleviating the intense mental and physical discomfort during the process.
By understanding the pain and suffering that accompanies withdrawal, we were able to create a synergistically-acting proprietary formula to alleviate the negative symptoms while also promoting a positive mood throughout the entire experience.  Elimidrol's primary purpose is to help people no longer be afraid of opiate withdrawal, thereby eliminating the fear that prevents many of us from taking the first step towards a better life.
Elimidrol® is non-addictive and non-habit forming. Our belief is that it is more important to permanently fix the problem now instead of delaying and escalating the addiction.
Opiate withdrawal is undoubtedly a challenging and complicated issue, which can eventually take over every facet of your life. The constant mental and physical discomfort can make the necessity to quit seem overwhelming and unbearable. Elimidrol® helps you regain control of your life and not only shows you that overcoming opiate withdrawal is possible but that it is closely within reach.
We believe that actions speak louder than words and although we could go on about the many benefits of Elimidrol®, we know what really matters is how well the product actually works. Our money back guarantee has been established so that you can see for yourself what an amazing impact Elimidrol® will have on your recovery instead of just taking our word for it.
Our mission is to show you that everyone has a bright and happy future waiting for them… take the first step today and reclaim your life.